Baseball Hitting Drills Making Coaches Line Up & Beg To Have Your Hitters On Their Team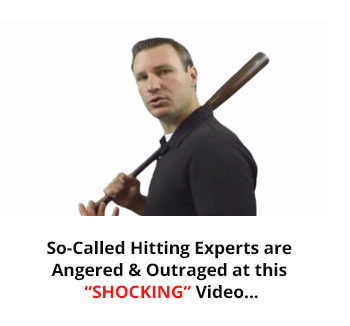 How Applying the 80/20 Principal Can Increase Ball Exit Speeds Off YOUR Barrel Today...
The sole purpose of Swing Smarter is to cut away all the fat and get to the meaty 20% of baseball hitting drills, mechanics, and aids contributing to 80% of swing results! We're THE baseball hitting source where one can find, as Jaime Cevallos calls it, a "Heavy Bat" type of swing explained so simple even a fungo could understand.
The best part is, you don't need to be a baseball guru to assess, organize, and execute it...you just have to love hitting, teach it, and maybe have a fondness for over-sized owl mascots named F-OWL Ball.
(By the way, I know what you're thinking...F-OWL Ball has been HGH and Synthetic hormone tested...RESULTS? As Arnold says, Negative)
We'd like to think of ourselves as the baseball hitting drills "Rosetta Stone" of hitting geek speak (thank Chas Pippitt for that metaphor :)
Unlock hidden potential with Swing Smarter Baseball Hitting Drills simple easy-to-follow principals today...
Tired of wasting time and money in a hitting instructor or training aid that let you down time and time again?
Are you constantly promised "quick" swing success, but never come to grasp that swing sweet spot?
Are you tired of sifting through hundreds of mindless online drills and hitting aids doing nothing for improving batting mechanics or boosting bat speed? Or,
Frustrated with nobody keeping you or your kid's swing accountable...how do you know you're on the right path? AND,
Why most batting aids, even those endorsed by Major Leaguers, don't help you, and most times than not, actually hurt you?
The answers to these questions and more were pulled from a compilation of my 23+ years of baseball service: playing 17 years, including 4 years of Division 1 college baseball at Fresno State, coaching and private instruction (6+ years), popular media I've immersed in including books, DVD's, etc., fitness, Yoga, Martial Arts, and the invaluable 80/20 Principal in which the organization of the site was built upon.
Please note: there are NO get hits quick schemes found here; we make it quite clear, success is spending 80% of the time on 20% of quality drills and skills.
Proper "Heavy Bat" Technique + Work Ethic = Success at the Plate
Our goal for players perusing Swing Smarter is to aid in climbing the competitive ladder, farther than you would have without us.
And for the coaches and parents, is to be able to translate our unique but simple "Heavy Bat" hitting system to any player at any level.
The best part is, the content on Swing Smarter Baseball Hitting Drills dot com is 100% FREE!!
Sure, we do have "investment" opportunities sprinkled throughout the site, but if you're not interested, then feel free to enjoy the no-cost material.
We pay for the site through other ads you'll catch scattered here and there. We do NOT promote products, equipment, or other websites without them passing the rigorous Swing Smarter NOT Harder test. Other sites drench their storefront with any and every product in the hopes you'll buy at least one.
We don't want to waste your time, so we ONLY put up quality player-tested ones.
Furthermore,
The weakness in most Major League or pro player endorsed products is money. Manufacturers pay the players a pretty penny to back poor quality hitting aids (some created by people who know nothing about hitting BTW), in order to cover up a product's weak spots in functionality.
"The mediocre teacher tells. The good teacher explains. The superior teacher demonstrates. The great teacher inspires." --William Arthur Ward
The bottom line?
We're baseball's Swing Hackers,
We've uncovered the 20% of the baseball hitting drills, mechanics, and aids taking care of 80% of swing faults, leading to 80% of your success as a player, coach, or instructor. The essence of Swing Smarter is to present an easy-to-use formula that makes sense, and gets the job done.
No hype, just results, period.
We're constantly adding value, so please subscribe to The Swing Architect Newsletter (free hitting bonuses included) on The Swing Architect Newsletter tab above, Swing Smarter's RSS feed (by clicking the orange RSS button under the navigation bar), and bookmark the nav bar "Archive" Blogging Hitter tab above to stay up-to-date on recent additions or changes to the website.
Also, please 'LIKE' our sister website's - The Starting Lineup Store.com - Facebook page.
Get the #1 Baseball Hitting Drills Secret to Stopping THE Most Stubborn Mechanical Breakdown...
Just enter your name and valid email address in the form below, click 'GET Access Now,' and you'll soon get a special link - after confirming your email address - to watch the FREE controversial limited-time ONLY #1 Hitting Drill Secret" Video now (Value $17).
Please tell your friends where they can find the best baseball hitting drills on the market (SwingSmarter.com ;), and hope your competitors don't find us.
Also, feel free to use the search box, powered by Google OR the Site Search tab on the navigation bar above, to help navigate through the website. Thank you for visiting, and we truly appreciate your time at Swing Smarter Baseball Hitting Drills dot com.
Here's what players and coaches are saying about us...
"It's really refreshing to read your articles on the basic fundamentals on baseball hitting drills. I'm a old school guy and been around the game well over 50 years. I've been coaching up to including high school and it always bothers me to listen to or see other coaches telling players such bad info. My son is playing college ball and still loves the game. Keep up the good work!!"
- Pat McGagin
"Joey, I just wanted to thank you for the Swing Smarter baseball hitting drills site you created and share so generously. Not many people today would take the time and effort to give so freely their knowledge, and care so much to help others, all without asking a cent in return.
You helped my son Brian work through some hitting issues he had a few years ago while in HS and you most recently took the time to help my son Troy. He's my 14 year old who has a bit of a bat drag. He's been working on his swing with the broom stick as you suggested and he can feel the difference already. I'd like to get him the MP30 training bat down the road but he has to do a few chores around the house first to earn that!!
Your love for the game and your caring to help others is very special. I'm sure you had dreams of playing professionally, but maybe what you're doing now with your hitting site; helping others, and freely giving so much back while asking so little in return is even greater and more special.
From my sons and I thank you very much, for caring so much."

God Bless,
Todd Henderson
Cresskill, NJ
"I absolutely love your website and approach to hitting. I love working from the ground up and mastering the absolutes of baseball hitting drills with one's legs and core. I also love the articles on the mental side of hitting and how these ideas are conveyed. ( not always an easy job). You don't want kids looking at you with that "What is this guy talking about?" look that tells you that their interest is already lost. The terms are understandable. As a hitting instructor and player, I am always in search of that perfect swing, a way to do it better and the best instructional approach. I like your Most Important Drills because they train what I (and Lau) would call absolutes of hitting. These train the hitter to master the essentials to be a successful hitter without all the jargon, terminology, white noise, as you put it. Very important stuff."
- Chris
"Great site Joey, I use your stuff to work with my 9 year old son and the results are awesome. I'll be joining your newsletter/blog..$25 (the reader is commenting on our donation swing training program) is an amazing deal to get so much info from a player who played at your level for Fresno."
-Tom
"I'm a senior in college that's had a few inquiries from scouts (MLB, Independent ball, and European leagues). I love what you've got going on here. There are tons of baseball hitting drills sites that tell kids how to swing a bat, but not many that help tackle the mental part of the game, and as both of us have seen, you can have all the talent in the world, but that doesn't mean much if you've got a five cent head."
-Jake
"I'm a Sophomore at a JUCO in Virginia this year. My high school team were back-to-back State Champions my junior and senior years and were ranked in the top 10 Nationally both of those years. I dislike these other baseball hitting drills sites very much. I have done my own research on swing thoughts, swing mechanics and what actually happens during game-time speed. Most every site I find is either absurd, has no credibility or just want to reap money benefits from people. Except for this one. I absolutely love SwingSmarter.com, be simple and find rhythm and ?Tai Chi?(un-kinked hose thing) approach that you have to hitting. And the fact that the site is free really makes me think you want to help people. For what it's worth I've decided that you're the only hitting coach I am going to trust."
-PHCC CF #6
Grab the #1 Baseball Hitting Drills Secret to Stopping THE Most Stubborn Mechanical Breakdown...
Just enter your name and valid email address in the form below, click 'GET Access Now,' and you'll soon get a special link - after confirming your email address - to watch the FREE controversial LIMITED-TIME ONLY #1 Hitting Drill Secret" Video now (Value $17).
Joey Myers provides verifiable information about himself and the Swing Smarter Baseball Hitting Drills Team, so you know what they're all about.
Take the batting instruction guided tour through Swing Smarter.com; looking for hitting tips on mechanics, drills, and aids? They're all found here!
Hitting baseballs consistently well begins & ends with community. The Swing Architect Newsletter is the springboard for uncommon hitting gadgets & unconventional wisdom that works. Read more...
FIVE fantastic hitting drills guaranteed to balance power and consistency in your baseball swing. This is a CAN'T miss article!
We'll uncover the last remaining hitting aids focused on accelerating force at impact...the NINE deliberately hand-picked premium performing batting tools on the planet.
Need a place to compare reviews of baseball hitting aids? Wonder if you're wasting time and money buying junkie ones? You may be. Find out now...
How-to use two everyday forces to add 13mph to a batted ball, 1 ODD baseball hitting technique found in an unlikely place, why Robinson Cano is TOP 10 in OPS every year (and how you can too)...
You'll find outstanding youth baseball hitting drills methods to getting the message across quickly and effectively. No more broken flashlight in a dark room youth coaching.
Proven truths about power hitting from arguably the best baseball hitter to ever live. Time tested swing principals contributing to 85-90% of swing power!
Discover the only online hitting trainer GOOD KARMA Swing Smarter resource...Use our program to tune up your swing, get on-time tips to use right away! Cost? Read more...
Sensational baseball hitting drills hot links resource to aid in your journey of becoming a versatile teammate or coach. Don't miss...
Disclosure from Swing Smarter dot com
Now revealing the cutting edge in baseball hitting innovation, by deconstructing stale hitting maxims, we use tried and true concepts that work and dump the rest. There's nothing like it on the web!
Welcome to Swing Smarter Baseball Hitting Drills.com contact us page. There's powerful information and resources to unlock the hidden potential in you!
Search the entire Swing Smarter Baseball Hitting Drills site powered by Google.